Medical discrimination is alive and well in Queensland
The radical 'new normal'.
---
PERSONAL CHOICE = PAY CUT
Queensland's Education Department is docking the pay of almost 1,000 school staff who did not get the COVID vaccine, saying that ignoring the mandate 'puts others at risk'.
Staff members, including teachers, teacher aides, administration staff, cleaners and school officers will have a "small-scale temporary reduction of one increment of pay" for 18 weeks, the department said.
"Approximately $25-$90 per week gross, proportionate to the normal pay that a staff member receives," a spokesperson from the department said.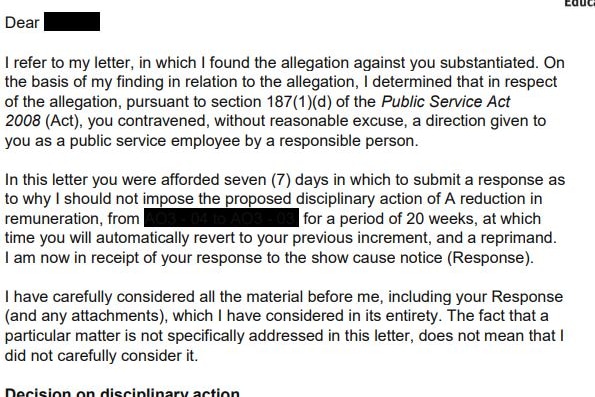 Teachers Professional Association of Queensland secretary Tracy Tully said impacted teachers had been informed earlier this year they would face disciplinary action for not complying.
"Whilst they were on suspended leave without pay, they received a letter saying that they are advising that there would be some disciplinary action, but they weren't sure what it would be," she said.
"By doing that, it actually puts people into a high state of alert and fear."
Ms Tully said the teachers had already been penalised financially.
"The teachers have already been disciplined by being stood down without pay," she said.
Now, they face this for not getting an experimental jab. That didn't work after all.
Let's not forget that COVID is quietly becoming the 3rd leading cause of death, despite promises that high vaccination rates would be the 'golden ticket' out of the pandemic.
Many have taken online to outcry the decision, going even as far as a mass complaints campaign.
However, it also seems like they have shut down the complaints line:
Medical discrimination is alive and well in the state of Queensland.
Worst of all, authorities are proud of their decision to punish teachers under the premise they 'may' pose a 'threat' to staff and children in some way.
Despite most staff being 'protected', and children not being affected by the virus.
Try to work out that logic.
PROUD OF IT
In response to backlash to the Department of Education's decision this week, 'Education Minister' Grace Grace had the audacity to respond by stating 'they are lucky they weren't sacked'.
This is a government that lavished in taking the human rights away from millions for their sick game of coercion, and despite mandates and restrictions ending, the segregation continues.
The decision is predicted to perhaps set class action lawsuits in motion, given the fact that society is no longer classifying the virus as a threat that must be locked down for.
Although, we must not forget that Queensland's state of emergency powers are still in place until at lease next month, for which they will likely be extended again citing 'out of control cases'.
Either way, this is yet another example of the sad state of affairs Australia has come to know these days.
What kind of a country thinks its okay to openly discriminate like this?
One that is gripped under the powers of foreign structures that don't share our values, that's what kind.
This story is a textbook example of the social credit lifestyle these groups are preparing the West for.
Where 'good' behaviours are rewarded, and 'bad' behaviours — like upholding your bodily integrity in the face of a giant scientific cult — are punished accordingly.
Slowly, but surely, they are socially engineering the masses to accept this way of life. The best way to do this (of course) is with economics, a system that already dictates the lives of millions.
'Bad, citizen!' — don't you teachers know any better?
What other vile acts are you doing — teaching kids how to think for themselves?!
'Well, we don't have a future for you in this new normal world'.
---
KEEP UP-TO-DATE
For more TOTT News, follow us:
Facebook — Facebook.com/TOTTNews
YouTube — YouTube.com/TOTTNews
Instagram — Instagram.com/TOTTNews
Twitter — Twitter.com/EthanTOTT
Bitchute — Bitchute.com/TOTTNews
Gab — Gab.com/TOTTNews
---
---
---