Coles renews push for 'hybrid' self-serve checkouts
The supermarket continues with its new world agenda.
---
'HYBRID' CHECKOUTS
Coles is pushing ahead with dystopian plans to transform the supermarket industry towards further automation, this time by resurrecting a 'hybrid' self-checkout system that initially wasn't feasible almost a decade ago.
A store in Queensland is the latest to ditch traditional checkouts with conveyor belts in favour of "hybrid self-assisted registers", becoming the second to do so, in a move that's caused outrage among Aussie shoppers.
A photo of the newly renovated Mount Gravatt store in Brisbane was shared online showing the new self-serve registers with conveyor belts and no staff, meaning customers would be required to scan their shopping themselves.
Coles says the new checkouts come "with the option for employees to step in when needed", similar to existing self-serve checkouts that everyone is familiar with.
Now, instead of having the option to go to a manned conveyor belt register, those will also be self-service.
The move follows another Coles supermarket in Melbourne which last year did the same, leaving some locals unimpressed.
Speaking of the change on Weekend Today, 2GB's Clinton Maynard called the move "ridiculous", saying a lot of people don't like such new technology.
"Last week Woolworths got rid of plastic bags, this week, Coles getting rid of checkouts. What's next, getting rid of food from supermarkets?" he complained.
"We still need those staff for people who need to go to a checkout."
Nationals leader, David Littleproud, said it's not ideal for elderly customers.
"Those older people need people. It is about the human contact and the services they get," he told the program.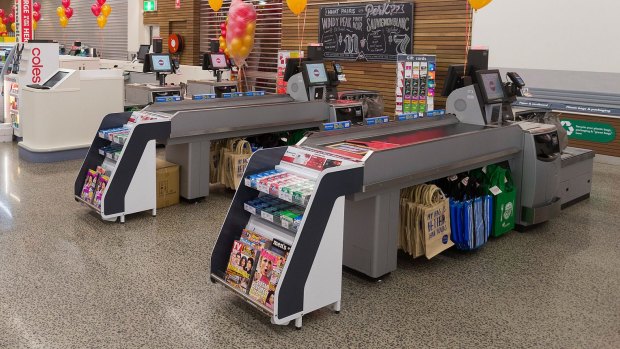 Coles originally began trialling the conveyor belts at self-service checkouts in 2015, but they flopped and did not manage to become widespread after a backlash at the time.
"Now EVERYBODY has a job at Coles," said one user on Twitter in response to the initial post.
Meanwhile, Woolworths is is currently trialling new colour-coordinated self-serve registers at some select stores across Australia, as well as expanding controversial surveillance cameras that monitor customers as they checkout.
As we know, this is all part of a much bigger agenda. An agenda that they openly hope will be achieved by 2030.
That is, the long-anticipated complete automation of major supermarkets in truly science fiction fashion.
THE 2030 TRANSITION
The re-surfaced push for full self-service checkouts in supermarkets is part of a larger plan to normalise the concept of staff-less stores in the public's mind, before they move to the next step: Removing checkouts all together.
In a 2020 interview, Coles Head of Commercial and Express Greg Davis said he believed some Aussie shoppers would be able to do their grocery shop without using a checkout by 2030. A quote from him:
"I have no doubt in the next 10 years, customers will be able to take the product off the shelf, put it in their basket, walk out and have it all paid for."
By allowing customers to shop and leave stores without going through a checkout, Coles say they will further advance their target to cut $1 billion from its cost base through automation.
This is the future, and they are all following the 'innovations' of Amazon in the United States.
If you want to see a vision of the future of shopping in major chains, look no further than what they are doing.
The 'checkout-free' concept has created a buzz in recent years, especially after online retail giant Amazon began rolling out its concerning Amazon Go concept in the US in 2018.
Under this system, shoppers walking into a store would scan their phone on a train-station-like turnstile, connecting their "presence" in the store (as well as fellow shoppers) with their profile.
Shortly after, artificial intelligence, sensors and data are used to detect what customers pick up and put in their bags, before being charged to their accounts on exit from the store:
The store offers a shopping 'experience' with no lines or checkouts, allowing customers to "simply take what they want and go" and has since been rolled out to several locations in the US.
Hundreds of cameras track shopper movement, while AI weighting systems calculate what items they pick up or put back down.
No lines. No checkout. No wallets.
Just an app, a digital profile and a connected payment method.
They call it "Just Walk Out" technology, but says it mimics some of the techniques seen in self-driving cars, including machine-learning systems that improve over time, as well as computer vision, the image-processing technology used on Facebook.
Of course, nobody was any real influence over Australian society has the backside to speak up against this.
We continue to steamroll ahead into mass unemployment and a machine-learning driven dystopian society.
It has never been more important to begin shopping at small and local grocery stores instead.
Even better, connect with farmers and growers directly.
We must reject these corporate chains and their visions for the future.
They already have automated warehouses, and now they hope for automated stores.
Let us show them where our values stand by voting with our wallets!
---
KEEP UP-TO-DATE
For more TOTT News:
Facebook — Facebook.com/TOTTNews
YouTube — YouTube.com/TOTTNews
Instagram — Instagram.com/TOTTNews
Twitter — Twitter.com/EthanTOTT
Bitchute — Bitchute.com/TOTTNews
Gab — Gab.com/TOTTNews
---
---
---
---