Electric utes will soon arrive in Australia
The 'EV Revolution'.
---
ELECTRIC UTES SHIP
Ten years ago, the thought of an EV-powered ute would have made the average Australian laugh.
The thought that this ute would even become a player in the market, even moreso.
In 2022, however, not many people are laughing anymore, with this vision predicted to become reality.
Australia is getting its first electric ute, it has been announced, as Chinese giant SAIC moves in to plug the "lucrative" domestic market and bring "genuine competition" to traditional models.
The first models have been shipped, with the earliest arrivals set to touch down in November.
LDV Automotive, which is SAIC-owned, has confirmed it will introduce the "eT60 All-Electric Ute" to the Australian market, along with "eDeliver 9 Large Van" and the "Mifa 9 People Mover" — both also electric.
The LDV eT60 was recently released in New Zealand, becoming the country's first electric ute.
In September, the ute was confirmed for an Australian launch.
This means that the T60 EV is the first electric ute to go on sale in Australia.
The price point of LDV's EV ute is yet to be confirmed.
Pundits are predicting the local price tag will be similar to New Zealand's, which goes for NZ$79,990 ($70,799) — that's around $20,000 more than the internal combustion engine equivalent, the T60.
Ryan Thomas, Fleet Manager for the NSW and ACT transmission network operator Transgrid, has already ordered a batch of the LDV eT60 electric utes, due to arrive in December.
This is not the only model set for Australia, either.
"The Ace Yewt", capable of between 150 and 200km travel at partial load and a maximum speed of 100km/h in about 14 seconds, also has a release date expected for 2023.
Furthermore, BYD local distributor EVDirect confirmed this month that it would be releasing an EV Ute as a member of its fleet in the Australian market next year — hoping to sell 9,000 per month.
The Rivian R1T will likely follow to Australia in 2024 after the Amazon/Ford startup tests in Europe.
And these are only a few examples.
Just a pipe dream a few years ago, the introduction of this ute is part of a larger EV process that experts say will transform Australia's automotive industry — and lead to further losses of freedom down the road.
THE EV ARRIVAL
Electric vehicles are the first-stage transition that will shake up how Australians drive forever.
By 2030, electric utes and vans will make up over half of light commercial vehicle sales in Australia, according to modelling published by research firm, Boston Consulting Group (BCG).
By next year, the BCG report says, light commercial vehicles will be as cheap as their internal combustion engine (ICE) equivalents, based on total cost of ownership over the lifetime of the vehicle.
"According to our forecast, pure battery electric vehicles (BEVs) will be the most popular type of light vehicle sold globally in 2028—three years earlier than we projected in our 2021 report on electric cars.

Furthermore, we expect global BEV sales to exceed all types of hybrid vehicles combined, and far outweigh those of internal combustion engines (ICEs), by the turn of the decade."
And as costs keep falling, they'll get even cheaper.
Electric utes and vans are predicted to rapidly become the new vehicles of choice for builders, electricians and other tradies — so long as we can get enough of them shipped here, experts say.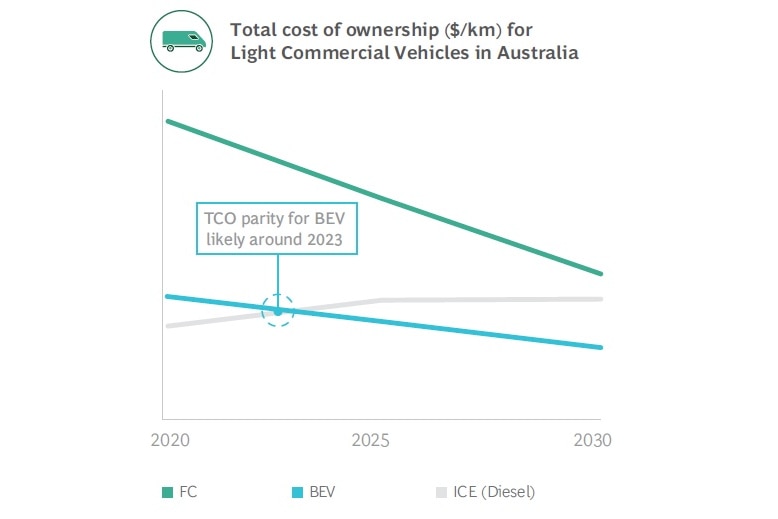 And this is just the first phase.
The EV 'revolution' is part of a transition to full-scale acceptance of driveless vehicles.
The next natural progression from EV, smart-powered cars, is to autonomous cars all together.
As the electric grid becomes completely unsustainable (by design), calculated autonomous vehicle networks and 'alive' public transport will usher people around their smart city prisons.
Economic modelling predicts innovative transport systems led by AVs will generate $62 billion in Australia, and with this change, you will be in the minority if you own a car by 2050.
According to a report by LEK Consulting, Australia is set reap billions of dollars via the adoption of 'new mobility', while private vehicle ownership dries up almost completely.
The tech elite are attempting to transform the automobile from a symbol of freedom into yet another node in their surveillance system.
---
KEEP UP-TO-DATE
For more TOTT News:
Facebook — Facebook.com/TOTTNews
YouTube — YouTube.com/TOTTNews
Instagram — Instagram.com/TOTTNews
Twitter — Twitter.com/EthanTOTT
Bitchute — Bitchute.com/TOTTNews
Gab — Gab.com/TOTTNews
---
---
---