In this city, a positive COVID test is followed by a knock at the door and a van to take you away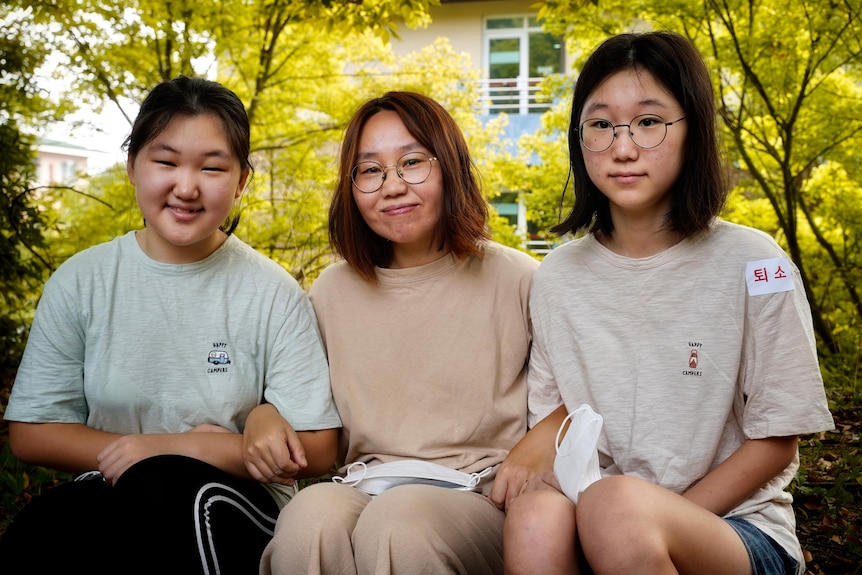 FORCED QUARANTINE
It was a Friday when Kim Gyung-sook started to feel just a bit off. 
She'd had one dose of Pfizer vaccine two weeks before, but decided to get a COVID-19 test.
"I hadn't been around anyone who tested positive but I just wasn't feeling well," she tells the ABC.
The test came back positive. Now, the confirmation meant a major upheaval in her life. 
She was ordered to isolate in her apartment away from her family until she could be moved to a government-run facility.
In South Korea, anyone who tests positive for COVID-19 is taken from their home. If they're 'severely affected', they're sent to the hospital.
If they've just got mild or no symptoms, like Ms Kim, they're taken to what the government calls residential treatment facilities.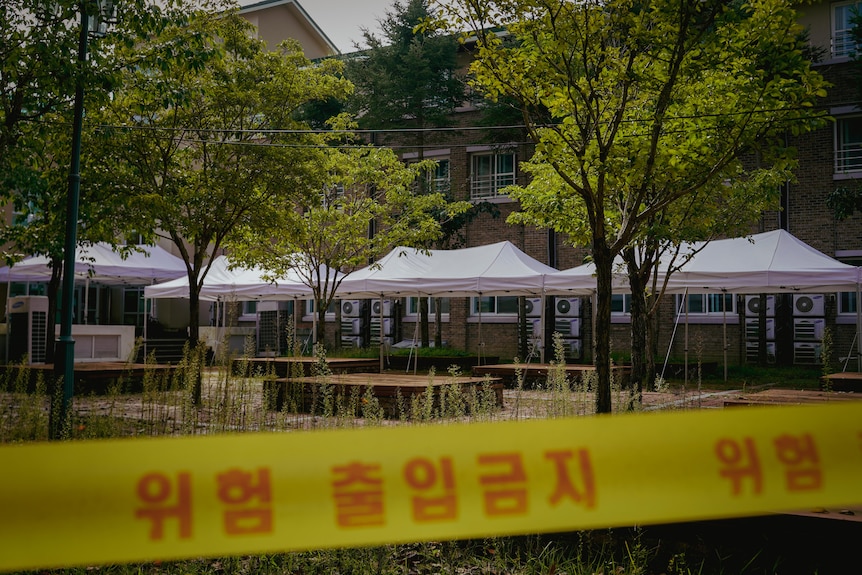 Ms Kim packed a small collection of belongings for the stay: clothes, toiletries and her laptop. She was picked up by a government minibus, with the driver separated from her and other passengers. 
Her two young daughters both tested positive two days later and were sent to the same facility.
"At first I had shared a room with another patient. But when my two daughters arrived we moved into what they call the family room," Ms Kim said.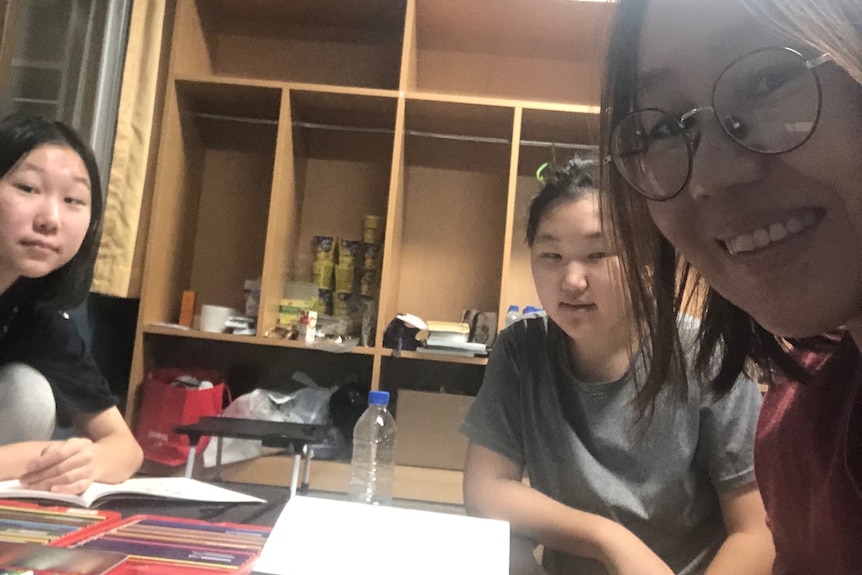 While in the facility, Ms Kim and her two daughters had to enter health records twice daily into a specially designed app.
Using equipment supplied to them, patients upload their temperatures, blood pressure, pulse rate and oxygen saturation. The data is checked by medical staff who are on site in case anyone's condition deteriorates.
It's a pretty bland existence. They receive three meals a day and snacks. There's also good quality wifi, which meant the girls could continue to attend class remotely during their stay.
This vision of a state-enforced COVID dystopia paints a chilling picture of the extents this operation can reach — and now 'experts' are floating the idea of a similar system working in Australia.
COMING TO AUSTRALIA?
Australia has 'prided itself' on its tight quarantine standards, both domestically and for returning international travellers — even those who test negative and have been double vaccinated. 
But it's a different story for positive cases in the community. 
In most cases, you're asked to quarantine at home.
Michael Toole, one of Australia's "foremost public health experts", has followed the course of the disease in South Korea closely and believes Australia could learn from it.
However, South Korea's system now 'has the eye' of some personalities here at home.
He's particularly keen for the 'COVID zero' states of Queensland, Western Australia, South Australia and Tasmania to follow the Korean example and isolate positive cases away from home.
Toole (fitting) says given the reproductive rate of the Delta strain, positive cases need to be isolated as quickly as possible. He believes the most effective way to achieve this is at an external facility.
"The average number of people that an infected person infects if they're not vaccinated is about five. So it's double what the early strain last year was," he said.
"If someone gets infected and goes into their household, then just about every family member will get infected and then they can impact other people." 
Toole says while Korea's model is logistically challenging and would require an investment of resources, it can be done — especially when case numbers are low.
"If they get a small cluster, they can prevent that growing by quarantining people in supervised facilities. So I think that would be an excellent policy."
Calls for a similar system to North Korea come at a very interesting time in Australia's coronavirus timeline: right as mass quarantine facilities are being built across the country.
CAMPS BEING BUILT
As of September 17, travellers entering Australia are required to spend 14 days in a government-approved quarantine facility, unless they had an exemption.
The quarantine facilities are managed by state and territory governments, mostly hotels.
Despite some states tentatively beginning to lift lockdown restrictions, Australian authorities are building quarantine camps that won't be completed until next year, in order to prepare for "ongoing operations" and to house those "who have not had access to vaccination."
A number of states have plans to build quarantine facilities – which have been referred to as "camps" by the mainstream media. 
Victoria has planned to build a quarantine hub, dubbed the Centre for National Resilience, at a rural site on the northern outskirts of Melbourne. According to the Victorian government, the facility will open in early 2022.
Other states plan to or are considering building similar facilities, including Western Australia, Queensland and New South Wales. In the Northern Territory, travellers are quarantined at facilities at Alice Springs or outside Darwin.
According to reports, one such 1,000-bed quarantine facility at Wellcamp Airport outside Toowoomba will be fully completed by the end of March 2022.
"At this stage, the cabins will be used by domestic travellers returning from COVID hotspots," states the report.
However, it also makes clear that the camp will be used for "ongoing operations" and will be a source of employment for the local area.
The camps is split into different zones and accommodates singles, doubles, and family rooms while being patrolled by police and security guards 24/7.
Citing new strains of COVID and people "who have not had access to vaccination," Queensland Deputy Premier Steven Miles told the media outlet,
"We anticipate there to be a continuing need for quarantine facilities."
The government is leasing the land on which the camp is being built from the Wagner Corporation for 12 months, with an option for a further 12 months after that.
Another 1,000-bed quarantine facility is also being built on a 30-hectare Army barracks site in the industrial area of Pinkenba, near Brisbane Airport.
Very 'convenient' that these facilities are being built right at the time 'experts' begin calling for a South Korean-like system to come to Australia.
What do you think of the information above?
What are the camps being built for? Simply returning travellers from overseas?
Will we end up with similar 'knocks on the door' like in South Korea?
Who will ultimately end up staying in these camps?
Leave a comment below!
---
See also..
---
---
KEEP UP-TO-DATE
For more TOTT News, follow us for exclusive content:
Facebook — Facebook.com/TOTTNews
YouTube — YouTube.com/TOTTNews
Instagram — Instagram.com/TOTTNews
Twitter — Twitter.com/EthanTOTT
---