CSIRO report reveals eerie future of solar energy
An old technique set to re-emerge.
---
THE NEXT STEP
Solar-generated electricity has become somewhat of a staple in society in 2023.
And, we have all heard the arguments when solar is suggested as an energy that can completely replace coal and gas:
'What about when there is no sun in the sky?'
'Will we all sit in the dark during night hours?'
At the moment, the power we use at night mostly comes from coal and gas-fired generation.
However, CSIRO now believe they have found the 'answer' to this challenge in an old technology that faded out as an alternative to coal/gas after solar panels and wind turbines were found to be a cheaper method.
This, of course, was back before they openly wanted to replace all coal and gas with green alternatives.
Now that they do, traditional solar panels and wind turbines are not enough.
As such, the technology they hope to bring back to the forefront is known as 'Concentrated Solar Power', or CSP, which uses a field of mirrors to focus heat from the Sun to drive a steam turbine, ultimately generating electricity.
The reason they want to bring CSP back boils to the major challenges of "decarbonising the grid": overnight energy storage.
CSP, they say, will help 'solve these challenges'.
According to CSIRO's Renewable Energy Storage Roadmap, released at the end of March, it is predicted that CSP will be the cheapest way to store energy for 8–24 hours by 2050.
Before coming to this conclusion, the report indicated the National Electricity Market (which is all of Australia, except NT and WA) could require a 10 to 14 fold increase in its electricity storage capacity between 2025 and 2050.
To combat this, they say, developing "medium-duration storage" is a 'necessary step' to assist switching off coal and gas-fired generators that produce most of the power we use at night.
Now, while CSP cannot generate daytime electricity as cheaply as solar PV, it has one advantage: built-in storage.
The heat from the Sun is stored in a medium, such as molten salt.
When the Sun goes down, they say, this stored heat can be "tapped" to drive the turbine and generate electricity.
For this reason, CSP projects are starting to gather momentum yet again.
The Australian Renewable Energy Agency (ARENA) recently approved $65 million in funding for a Sydney-based company, Vast Solar, to build the country's first commercial-scale CSP plant in Port Augusta, South Australia.
In Victoria, we have also seen the company RayGen begin developing a new kind of power plant that borrows elements of both photovoltaics and concentrated solar thermal technology.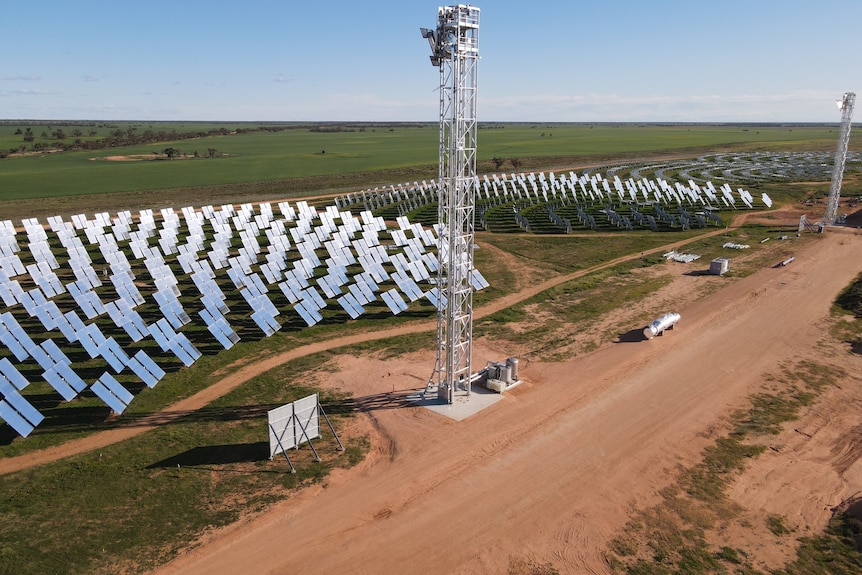 Also partially funded by ARENA, its design uses a field of aligned mirrors to focus sunlight onto a tower-mounted receiver.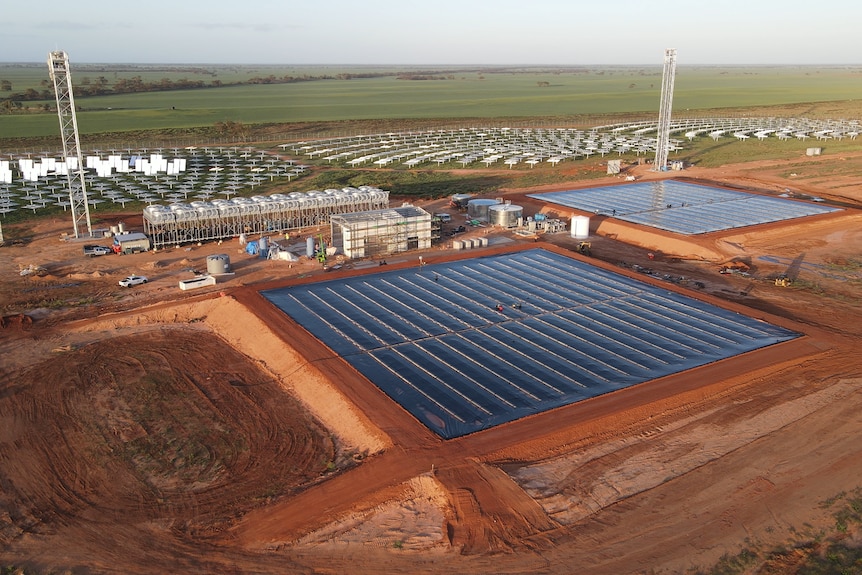 Australia is not alone in this push towards a 'rounded' solar future.
Spain, Morocco, South Africa and Israel are just a few examples of other countries using CSP in their grids, while China has dozens of projects underway across their region.
The transformation pushes ahead, and when looking at these circular grids of mirrors, I am reminded of the opening scene from one dystopian science fiction movie..
BLADE RUNNER
This shift towards CSP-backed solar alternatives resembles the eerie future of electricity generation depicted in the opening scene of Blade Runner 2049, with endless arrays of mirrors in concentric circles:
This movie also talks about how the collapse of ecosystems in the mid-2020s led to the rise of synthetic farming, a move that is also being pushed by the New World Order as an 'alternative' to food systems.
"REPLICANTS ARE BIOENGINEERED HUMANS, DESIGNED BY TYRELL CORPORATION FOR USE OFF-WORLD. THEIR ENHANCED STRENGTH MADE THEM IDEAL FOR SLAVE LABOR
AFTER A SERIES OF VIOLENT REBELLIONS, THEIR MANUFACTURE BECAME PROHIBITED AND TYRELL CORP WENT BANKRUPT
THE COLLAPSE OF ECOSYSTEMS IN THE MID 2020s LED TO THE RISE OF INDUSTRIALIST NIANDER WALLACE, WHOSE MASTERY OF SYNTHETIC FARMING AVERTED FAMINE…"
When looking at photos of CSP circular fields, it is hard to not ignore the images from a futuristic dystopia.
And of course, as we have explored previously, science fiction has served as the primary tool for hundreds of years to 'prepare' and 'program' the collective unconscious to the future introductions of these concepts.
Will we see soon begin to see fields of CSP plants on top of synthetic farms in the 'real world'?
It definitely makes you think!
Make sure to leave your thoughts on CSIRO's new CSP-based roadmap below!
---
KEEP UP-TO-DATE
For more TOTT News:
Facebook — Facebook.com/TOTTNews
YouTube — YouTube.com/TOTTNews
Instagram — Instagram.com/TOTTNews
Twitter — Twitter.com/EthanTOTT
Bitchute — Bitchute.com/TOTTNews
Gab — Gab.com/TOTTNews
---
---
---
---